U-CH U-CD U-RO1 GWYNMOR POWER POINT CD RE OA AXJ VCD1 TD
W-FD/MF TT CGC TDInc
BAER bilateral, CERF (no evidence of ISD), OFA hips and elbows, normal thyroid,
CHIC #19331  DOB: 6/22/2001
"Jamie"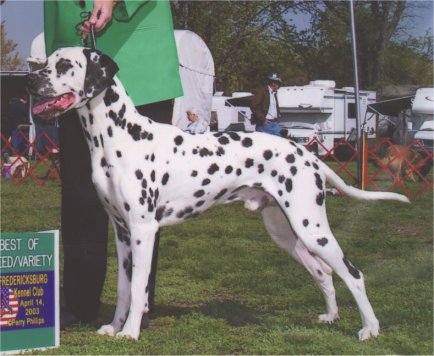 Jamie at 21 months going WD, BOW and Best of Breed over a special.

In addition to being extremely handsome, athletic, and intelligent, Jamie is one of the sweetest dogs you can imagine. He makes regular visits to Fauquier Hospital where he is extremely popular with both the staff and the patients. Jamie loves the pet therapy visits as his mission in life is to kiss as many people as possible.  Ravenwood and Monumental are thrilled to have had the opportunity to bring this outstanding dog from the Netherlands to the US. Jamie combines some of the finest bloodlines in Europe and we are very grateful to Rhys and Annemiek Morgans of Gwynmor Dalmatians for entrusting Jamie to us. Jamie's first litter out of Mackie, U-CH CAN CH CT Monumental Moment at Ravenwd RN CGC TDInc was born 9-20-02, We got our incredible Romy from this litter.

Career Highlights:

June, 2004 added TT title. December 2004, we drove 470 miles to TN to compete in our first ever tracking test where Jamie earned his TD.

Became one of the very first Dals to earn the RN titles at shows January 1st and 2nd, 2005. He then quickly added the RA and RE titles, UKC championship and UKC CD, and the AKC NAJ title. Was #3 Dalmatian for UKC.

Added WCFO musical freestyle title and AKC CD in 2006.

Added AKC NA title and VCD1 title in 2007. Was #7 Novice Standard for Dalmatian Club of America Top Spots.

Added AKC OA, OAJ, AXJ, and NF titles in 2008. Was #7 Excellent A JWW Dalmatian Club of America Top Spots.

Jamie hasn't been out much in 2009 but did get his UKC RO1 title with 3 scores of 99 out of a possible 100.
| | |
| --- | --- |
| | |
| | |
| | |
Parents
Grandparents
Great-Grandparents
Great-Great-Grandparents
INT NL LUX BEL NORD FIN DAN CH Spotnik's Special Selection
(sire) (Multi BIS, multi BISS, Multi Group Winner, NL Dog of the Year 2000)
CH Spotnik's Quick Quackery
Perdita's Inside Information
T-Cart Unicus
CH Perdita's Key to Heaven
CH Spotnik's New Network
Kjmo's Dennis
Svolvaergeita`s Halfway Spotnik
CH Spotnik's Milkmaid
CH Timanka's Talented Clown
CH Liberlines Othello
CH Timanka`s Single Ace
CH Spotnik's Emily Brown
CH Bobbysocks Athos
CH Spotnik`s Brown Button
NL CH Gwynmor Lili Mai (L)
(dam)
INT NL BEL LUX DAN CH Gayfield Charles Brown (L)
Jemblewood Playing the Fool
CH Elaridge Playboy
Jemblewood Josephine
Gayfield Charmian
CH Dallyvista Vee for Victory at Gayfield
Gayfield Cassandra at Lankarl
Perdita's Keep Track
CH Perdita`s Just in Time
Dalming`s Easter Parade
Perdita`s Memory Lane
CH Perdita`s Long Live Love
CH Timanka`s Talented Clown
Perdita`s No Miss